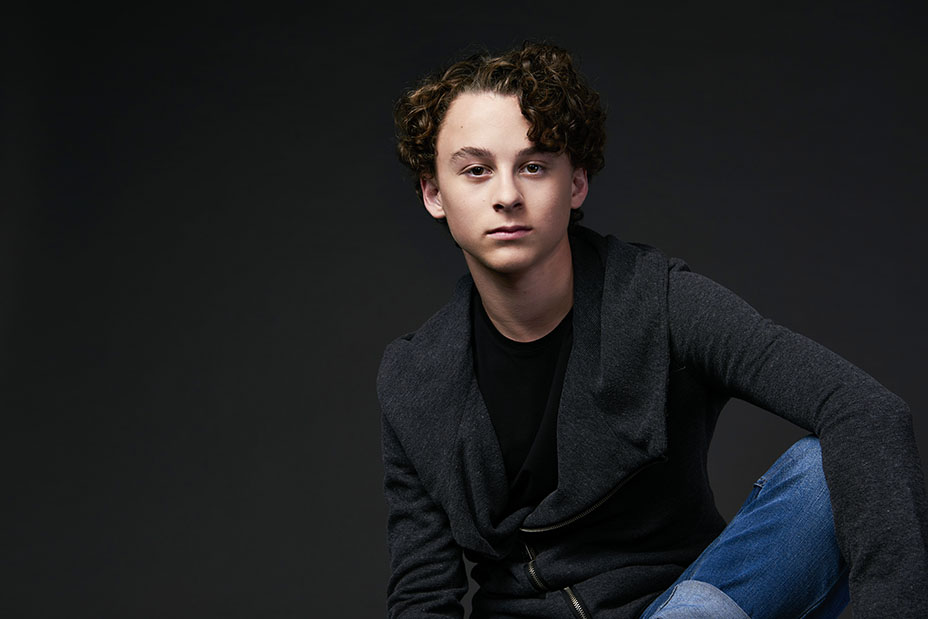 Guardians of the Galaxy helped launch Chris Pratt as a leading man on his way to multiple franchises. Now, the actor who played a young version of Pratt's Peter Quill is following in the star's footsteps.
Wyatt Oleff officially enters franchise double duty this weekend with It, in which he plays Stanley Uris, a thoughtful member of the Losers' Club in the Stephen King adaptation.
At 14, it's a role he almost wasn't able to get, because he was going to be shooting a part on Guardians of the Galaxy Vol. 2 when it came time do a chemistry read with the film's other young hopefuls.
"We were freaking out. 'What do we do? We're going to miss something really important,'" the star recalls thinking.
Fortunately, he was able to meet director Andy Muschietti the same day he flew out to Atlanta for Guardians 2.
Though he initially was reading for Bill, leader of The Losers' Club, Muschietti saw Stanley in him.
"And Andy saw my tape and was like, 'I think he might fit Stanley better.' So I went back and read for Stanley and I read for an important scene that's not in the movie anymore," Oleff says.
The young actor's foray into the world of blockbuster began in 2013, when Oleff auditioned for Guardians of the Galaxy with a tape that blew the team away.
"Have you ever seen the audition tape of Henry Thomas for Elliott in ET? It was like that, but way better," says Simon Hatt, who once worked as director James Gunn's assistant and has risen through the ranks to be co-producer on Guardians of the Galaxy Vol. 3.
A year later, audiences met Oleff in a demanding scene that saw young Peter Quill witness the death of his mother. The actor had not experienced a personal tragedy on the magnitude of his character, but he thought about the deaths of his pet Shih Tzus for inspiration.
"I used that to make me help me cry a lot, and my mom helped me a lot," he recalls. "And actually feeling myself in that situation, if that was my mom on that bed, I can feel how powerful that would be and how awful it would be to lose someone."
His performance was so powerful that those on the Guardians were taken aback.
"Wyatt's performance was so real, so raw and so moving. I remember being on set and the whole crew were blown away by him," Hatt recalls. "James ran Wyatt through the scene plenty of times and Wyatt gave a stellar performance with each take. He's an absolute pro and a great collaborator."
No It sequel has officially been announced, but a second installment focusing on the Losers' Club as adults is planned. Muschietti has indicated there would be moments for the young cast to return as well in the sequel.
In It, Oleff has a memorable encounter with Pennywise at his synagogue as he prepares for his bar mitzvah. But his audition scene, which was cut from the film, may have been the most personally taxing. It showed Stanley giving a speech at his bar mitzvah, and audio from the speech can be heard in one of the trailers for the film.
"It was the first scene that I ever shot for the film," he recalls. "I had a ton of lines to memorize and they even added a whole new paragraph while we were filming. I was like, 'Oh boy.' After a while it got a lot easier to say over and over gain … it was, like, 10 hours filming that scene."
In addition to getting to perform his craft, starring in It had a hidden benefit: he learned a lot more about the film's '80s-setting, getting tips from the crew about what it was like back then — an eternity ago for a kid.
"One of my main things I loved was the music. I have a whole playlist on Spotify called 'Stanley's '80s track.' And it has all the songs that I think my character would listen to. I love the music so much, I listen to '80s music almost every day."
It opens Friday.