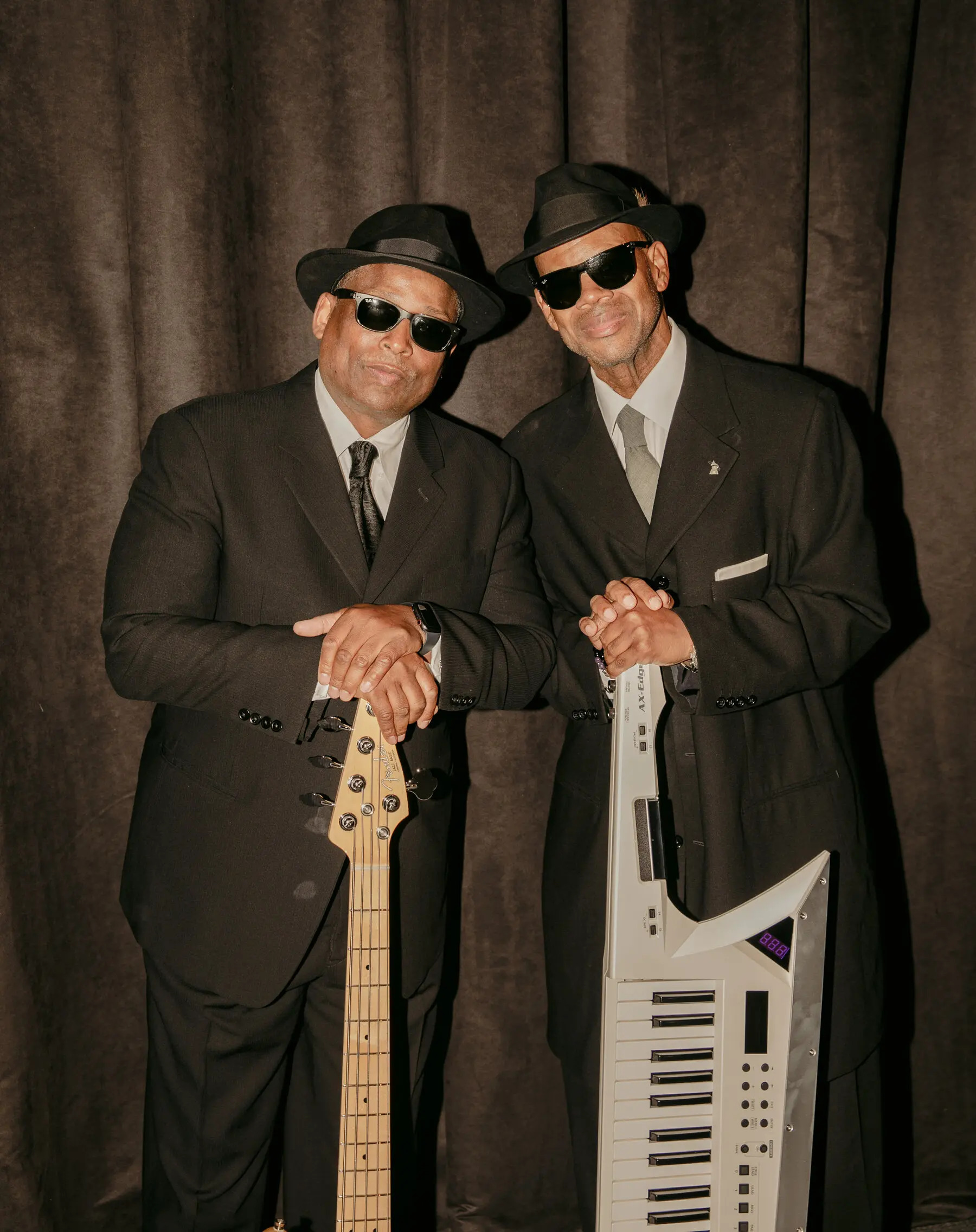 The writing and production duo Jimmy Jam and Terry Lewis helped give Janet Jackson and others decades of hits. Now they're bringing their "newstalgic" sound to their own LP.
Has this ever happened you? You're at a party or dinner or the gym, when out of nowhere, the person you're talking to stops speaking. They look around as if they're being called, which is funny because you don't hear an emergency. Just Cheryl Lynn's 1983 R&B hit "Encore." They run to the dance floor. They make their own dance floor — right there in that restaurant, that bodega, that Target.
If this has ever happened to you, the dancer was probably me. But it's not my fault. It's Jimmy and Terry's. They wrote "Encore." And for the three-and-a-half minutes it's on, with its rocket-ship keyboards, juicy funk groove and Lynn's mighty, muscled introductory ooh yeah, the only conversation I want to have is with this song.
It's not just me. Jimmy Jam and Terry Lewis have been doing this to people for almost 40 years — using live instruments and state-of-the art studio wizardry to produce music strong enough to snatch a body and render it a Gyratron.
"Just Be Good to Me" by the S.O.S Band.
"Saturday Love" by Cherrelle and Alexander O'Neal.
"Human" by the Human League.
"Monkey" by George Michael.
"If It Isn't Love" by New Edition.
"Romantic" by Karyn White.
"U Remind Me" by Usher.
Toni Braxton told me her gateway Jimmy and Terry was Janet Jackson's cashmere chastity anthem, "Let's Wait Awhile." (Braxton sang it to me, actually.) Last year, Mariah Carey released a rarities collection that included a faithfully robust live version of "Just Be Good to Me." And, in an email, Jackson mentioned the S.O.S band, "Human" and the duo's collaboration with O'Neal as being part "of this really incredible body of work."
Jam and Lewis have made music for and seemingly with everybody, but Jackson is the artist with whom they're most automatically associated. Over about half a dozen albums, beginning with "Control" in 1986, the three merged into a trinity of megaselling, genre-melting popular musicianship, releasing work that defined and redefined then defined again who Jackson is and how she can sound. Jam and Lewis have been up for 11 producer of the year Grammys, and the bulk of the accolades has included their work with Jackson.
But after decades of below-the-title collaboration (often in matching suits, ties, fedoras and shades) Jam and Lewis have decided to put themselves first. Sort of. July 9 brings "Jam & Lewis Volume One," the first album released under their own names. They co-wrote, play on and produced its 10 luscious songs. The singing, however, has been left to professionals: Carey and Braxton; Mary J. Blige, Boyz II Men, Heather Headley, Sounds of Blackness and Charlie Wilson.
They've been working on this album for at least three years. I heard some of its songs in July 2019 on a visit to Flyte Tyme, their sprawling studio in an industrial warehouse complex in Agoura Hills, a town on Los Angeles's western outskirts.
The pandemic allowed the duo to finish the album in a time of relative calm. And they got to ruminate about their intentions.
"There was an elegance and an effortlessness to the way that the album sounds," Jam told me a few weeks ago, on a Zoom call with Lewis. "When I listen back, it doesn't sound like we're chasing anything, it just feels like it's just it is what it is, and the songs are timeless in a way."
"Volume One" isn't out to burnish Jam and Lewis's standing or defend their legacy. It's more fascinating than that. Each song renders its singer just as Jam implies: as their most quintessential self.
Do you miss the melodrama of mid-2000s Carey? Well, here she is cooing in anguish then roaring to life on "Somewhat Loved (There You Go Breakin' My Heart)." Have you longed to hear Usher at both his most melodic and his most Prince? Then "Do It Yourself" hits the spot. And if you've wondered how the flirtaholic Morris Day, of Jam and Lewis's old group the Time, might fare in the age of active consent, there's "Babylove," a bounced-up party number with the Roots, in which Day and his sidekick, Jerome Benton, all but ask the ladies in attendance for two forms of I.D.
On "He Don't Know Nothin' Bout It," Babyface sounds as smooth and certain as he did decades ago. Jam remembered that when the producer and singer heard the finished track, he couldn't believe how classically himself he sounded. "We said, 'Hey, man, you're [expletive] Babyface. What do you think it's supposed to sound like, man? Don't you know who you are?'"
Jam calls this conflation of old-school and contemporary sounds "newstalgia." "It's that feeling that you get when you hear something that's new," he said, "that's exciting, but it takes you back to a place that's very comfortable and very reassuring. And we wanted all the songs on the record to have that feeling."
Of the artists who appear on "Volume One," no one sounds more newstalgic than Toni Braxton. Her song's a honey-dripping ballad called "Happily Unhappy" that reaches the pit of your stomach and grips the bottom of your heart. It could have been both a big hit 20 years ago and, Jam said, "would fit in just the way it fits in now."
"If you just said, 'Hey, Siri, play a Toni Braxton song,' that would be a song that would come on," he added. When L.A. Reid, who produced some of Braxton's biggest hits, heard "Happily Unhappy," he told Jam, "I just feel like a void, a cavity has been filled in my soul where I didn't even know I had a cavity."
Braxton said, by phone, that she was nervous working with Jam and Lewis for the first time. "I had L.A. and Babyface," she said, "and I always see Jimmy and Terry as Janet's boys." But they put her at ease, first by talking about music the three of them admired, like the score for "The Bridges of Madison County," then reinforcing her musical confidence — on the piano, an instrument neither Jam and Lewis nor most people know Braxton proficiently plays.
At the beginning of her career, a top producer told Braxton that she couldn't be seen with an instrument because the great singers stood behind a microphone. (This was the early 1990s.) She complied. Nonetheless, the piano has remained essential to her approach. "When I play a song, the keyboard is the highway for me," Braxton said. It's "how I find my way, and I can put up the stop signs, and the red lights, and lights and pavement. But it helps me navigate my way, in music."
If you give a song "to a hundred people," Lewis said on that Zoom call, "99 people would do it differently than Aretha Franklin. Toni has that same gift." Jam said that Braxton "bends those notes, and even though she's doing runs it's not like in a gymnastic way where you're going, like oh, oh, oh, and it's like a run? It's like every note in every placement is just — it's just so good." What Lewis and Braxton did is make room for Braxton to be both vulnerable and very much herself.
"They're therapists," she said.
JAMES HARRIS III met Terry Lewis as a middle-schooler in the summer of 1973 on the campus of the University of Minnesota as part of a six-week Upward Bound program. Jam was an only child and recalled catching Lewis seated on a bed, playing Kool & the Gang on a bass guitar and thinking, "That dude needs to be in my life." Lewis remembered Jam playing piano that summer for a group of girls. He wasn't impressed by the attention Jam was getting; he saw an opportunity to fill a hole in his band.
Jam grew up loving Chicago before it was a Top 40 powerhouse in the 1980s. The band's ballad "Something in This City Changes People," a jazzy sparkler from 1973, was particularly formative for him. "I'm self-taught," Jam said. Chicago, and its keyboardist Robert Lamm, are the reasons "I learned the black keys on a keyboard."
Lewis was shaped by other means. As a teenager, he was out playing bass with the R&B barnburners Sam & Dave, learning "how to maintain the pocket," he said. "They told me what not to do which was don't go over the A string. You could play the E and the A string — but no plucking and no picking."
It was Lewis who helped ensorcell Jam with stronger grooves. "I was saying to him, man, the new Chicago record's getting ready to come out and he looked at me and he was like, 'Chicago record'?," Jam recalled. "What about Earth, Wind & Fire, man?" His soul-music diet swelled to include, for starters, New Birth and Tower of Power. "That was so memorable, just our meeting that summer," Jam said.
Jam is 62 (Lewis is 64), but when he talks about their bond — when he talks about anything having to do with music, for that matter — he sounds like an enchanted adolescent. The duo is now approaching their 50th year as friends. Some of what appears to make the relationship work is their outward opposite nature, the complementary difference between a piano and a bass, between soft rock and funk, between the long, silky ponytail Jam wore in the 1980s and Lewis's shorter haircut.
Jam is tall, voluble and, until recently, meaty. Lewis has sharp facial features (high cheekbones, perfectly triangular nose), seems compact and slyer and, when Jam is around, more inclined to ride shotgun in a conversation. Jackson might know these two better than anyone apart from their families. In an email, she wrote that she's "always called Jimmy and Terry my two dads," even though they seem like one person. She went on to explain how they bonded in Minneapolis, telling each other stories, going out to clubs and building on a foundation of trust that came from first encountering the duo when she was in her teens.
"They get along better than a married couple," she added. "You are talking about two guys who have known each other since junior high school, and they've never ever got into one argument to this day. Jimmy is very much like a diplomat; Terry is wise way beyond his years and loves a good debate." Whenever they started a project, they asked her "What are you into?" Jam said that the collaborative philosophy between him and Lewis comes down to: "The best way wins."
When I visited Flyte Tyme two years ago, Jam hadn't arrived yet, so Lewis guided me around the studio and the tracks they'd chosen to play for me. But when Jam arrived, Lewis rarely spoke unless addressed. This appears to have always been the case. Once, in the 1980s, the radio personality and host of BET's "Video Soul" Donnie Simpson caught up with Jam and Lewis for an interview; Jam spoke in erudite blocks and Lewis interjected for comedy and clarification.
Sitting with him for our listening session, I was worried that Lewis would disappear amid Jam's ebullience. But Lewis likes the arrangement: "You know, sometimes if you talk too much nobody listens, so if you talk a little people tune in." He's not wrong. His presence is one you can feel.
Later in the afternoon, briefly alone with Jam, I told him that "You Ain't Right," the violent, sonically dense banger that kicks off Jackson's album "All for You" is an ingeniously disorienting way to open a pop record. Jam said, "Quick story," and went on to tell a long one that involved the ingenuity of the producer Rockwilder. "I always tell people, the reason Terry is such a good lyric writer," Jam said, "is because what it takes me a paragraph to say he can say in a sentence." With Lewis, the waters might be still but they run deep. He's the bass of the partnership.
The roots of that "&" in their arrangement are strong. "We shook hands back in '82, I guess it was," Jam told me as Lewis nodded. "And we said 50/50. So, it doesn't matter whose idea it is, there's no ego to it, it's just the best idea wins, and so it eliminates 99 percent of anything that you would ever disagree with."
Lewis remembered an early period with Jackson "where Jam was the sensei and she was growing and she needed space, so I had to bow out." Lewis said that Jam told Jackson, "You got a lot to say and nothing to prove." If Jackson needed Lewis, she only had to call. "I'll be right across the hall," he remembered telling her. "You have to allow space for people to grow."
BOTH LEWIS AND Jam are proud of the fruits of their friendship. The Agoura Hills space is practically a museum of both their success (framed platinum discs on nearly every wall) and their inability to purge (if I saw one keytar maybe I saw a dozen).
Some of the premium instruments were once in a storage space across the street — the Linn drum machine they used on the album "Control"; the SP1200 drum machine they employed on Jackson's "Miss You Much," "Escapade" and "Love Will Never Do Without You"; the OB-8 synthesizer that gives "Encore" its bass notes along with Lewis's live playing (yes, that song has two bass parts). One 808 was so special — used on jams for the S.O.S. Band and New Edition, as well as "Volume One" — it was being kept in a Plexiglas case.
A young hip-hop producer once asked Jam if he had 808 sounds stored on a computer, and Jam just showed him the actual hardware. "He started calling all his boys," Jam recalled. "'Man, Jam, got an 808, man. No, not the sounds, man. The real machine!' It was hilarious to me."
Jam says they considered paring down. But a few things happened to change their minds. For one, they were working with the singer Robyn, who also wanted to see a fabled 808 with her own eyes. "She was the one that actually sparked that idea" to move, Jam said. So now a visitor can walk around and "see the piano that 'Tender Love' was done on, or you see the drum machine that 'Saturday Love' was done on."
They also found a note Michael Jackson left asking if they wouldn't mind importing some sounds he liked on Janet's "Nasty" to a project they were working on with him. "I wasn't there so he had taped it to the keyboard," Jam said. "So, literally, it was the note with a piece of tape still on it from Michael Jackson. And Terry and I kind of looked at each other and said, Well, we got to move all these boxes, we can't just toss" them.
Two years ago, help was on the way. Jam mentioned that someone from the Smithsonian had recently come out to look into displaying some items for posterity. He reported that their equipment and accouterments have also drawn the interest of the National Museum of African American Music in Nashville, and the Grammy Museum in Los Angeles, where one of Lewis's fedoras already lives.
The tour that started with Lewis and ended with Jam concluded only because three hours had passed, and some of us were hungry. For food. But also for news. Robyn, Lewis said, would be on "Volume Two." So might Jackson.
I asked when that might be.
Lewis's eyebrows arched over his shades, then he grinned.
"After 'Volume One.'"